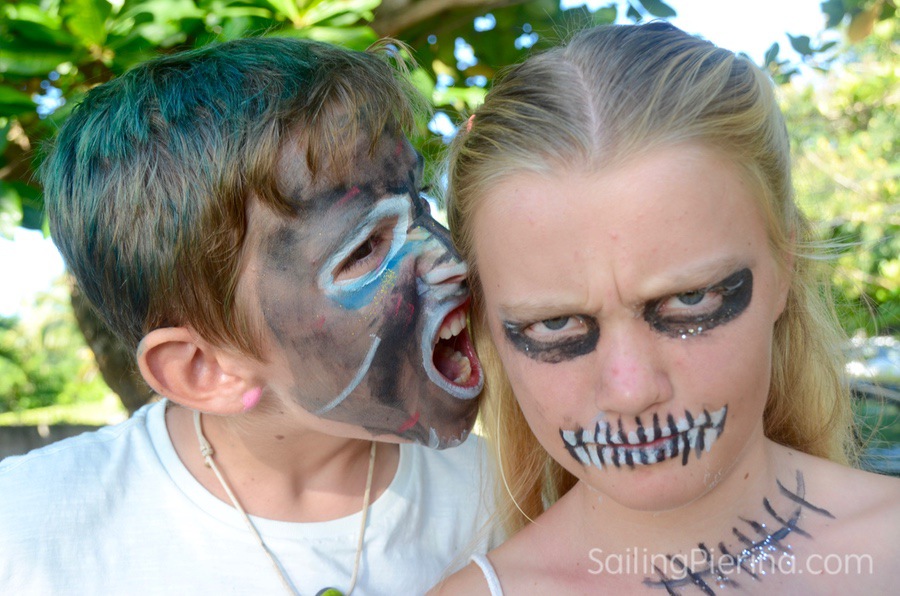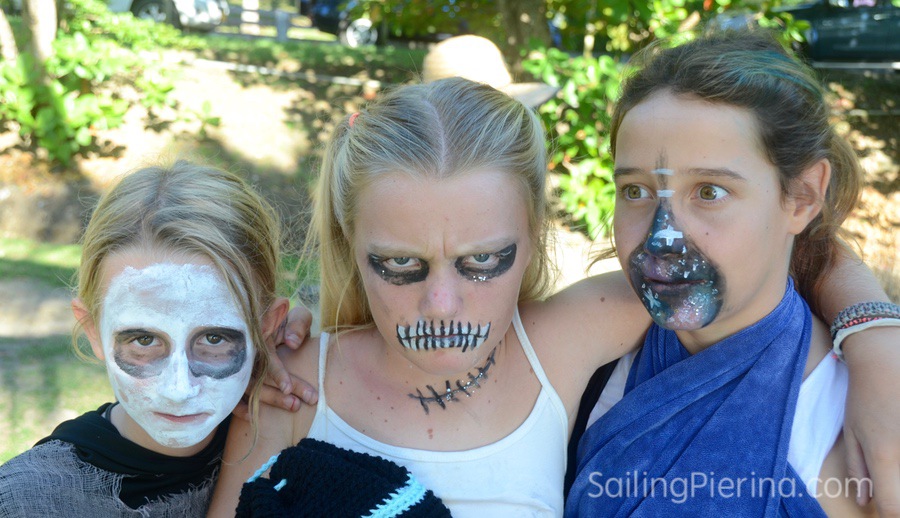 Have you ever wondered how live aboard cruisers celebrate Halloween?
People often ask me if our kids get enough social time with other kids and it's sometimes hard to explain that yes, they get plenty! Celebrating Halloween was a great example.
The kids had been planning it for weeks and the turnout was nothing short of amazing. There were over 60 cruiser kids of many different nationalities involved here in Grenada! Funny because when I went out to buy all the sweets for us to give out, I was told there would be around 20 kids. Fast forward to the actual day and that number had tripled!….eeek! I needed more sweets!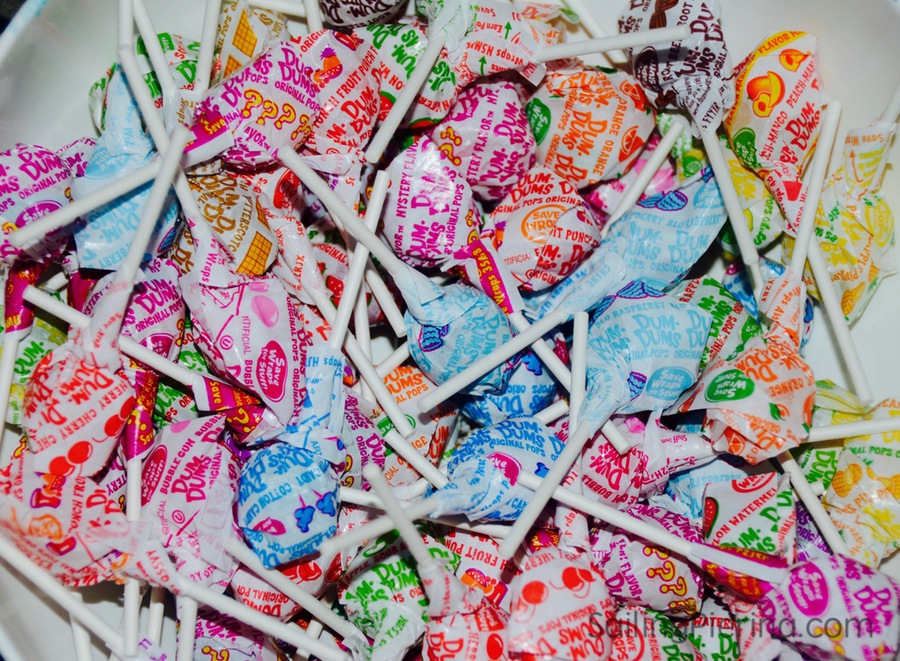 The afternoon started with a pot luck for everyone on the beach. There were so many kids with some great outfits…most of which had been handmade cause that's the way we cruisers roll! It's often not in the budget to spend money on 'extra' stuff, so we tend to be more creative than we used to be and make things out of what we find onboard or lying around our surroundings!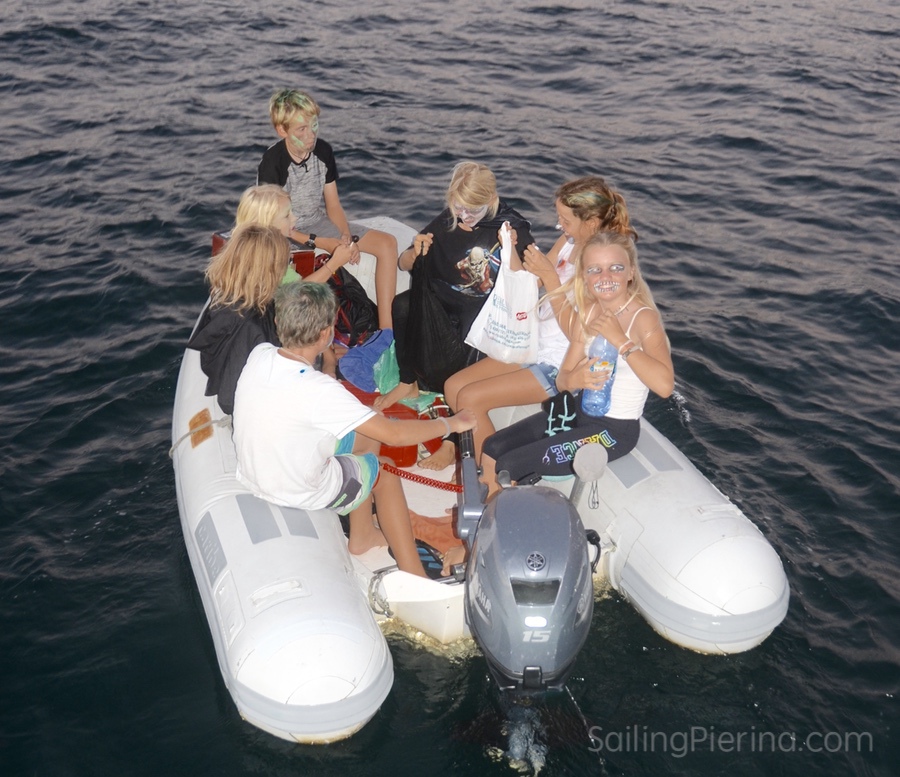 5pm arrived and all the kids flocked into dinghies. The kids had prearranged which friends were going with which dinghies. I love watching this process with the kids. Most dinghies ended up with kids of assorted ages in them.
Boat kids are great at mixing with kids of any age, any nationality and irrelevant whether they're boys or girls. It's something I didn't see as much of when we lived on land.
The parents went back to their boats so they were ready and waiting to provide the goods!
The kids went off to drive around the anchorage. All the boats who wanted to participate in offering treats were asked to hoist their yellow flag to signify that the kids could approach them.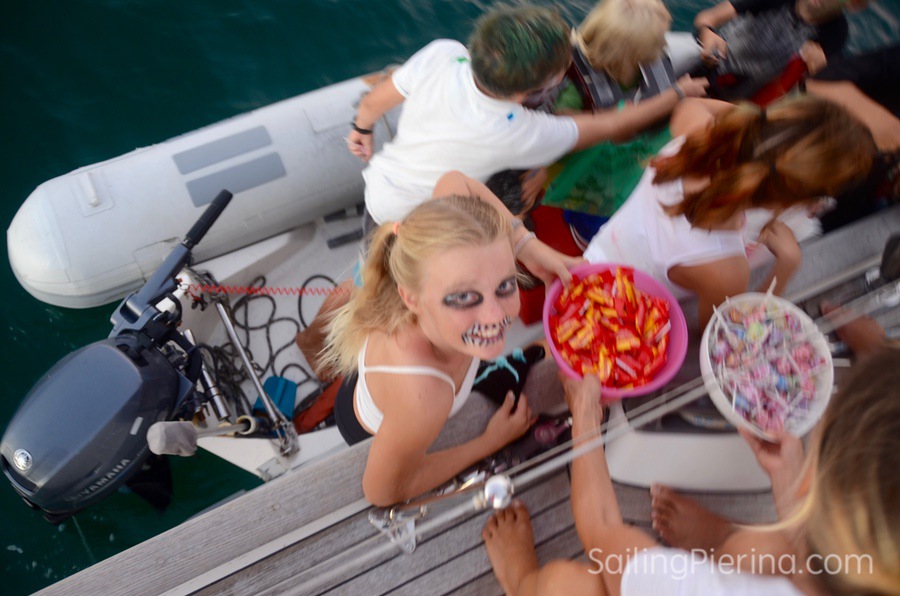 It was pretty exciting watching all the kids come up to the boats for trick or treat and hearing their shrieks at having candy rain on them in their dinghies was so rewarding!!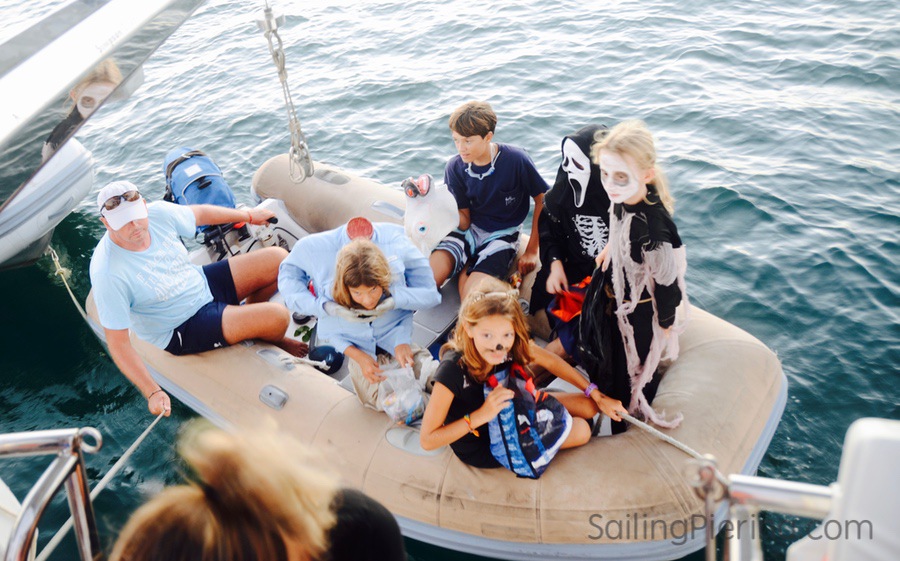 You might find it an odd thing that our liveaboard Halloween was held on October 27th rather than October 31st. What might be more odd about that is that nobody questioned it! That was the date that someone set and we all just went with it. A liveaboard life is so different to living on land and I love that things like the date of traditional Halloween wasn't important…and it wasn't dictated by society. It was OUR liveabord Halloween and the main thing was that the kids all had a great scary time…and that they did that on the 27th rather than the 31st really didn't matter!